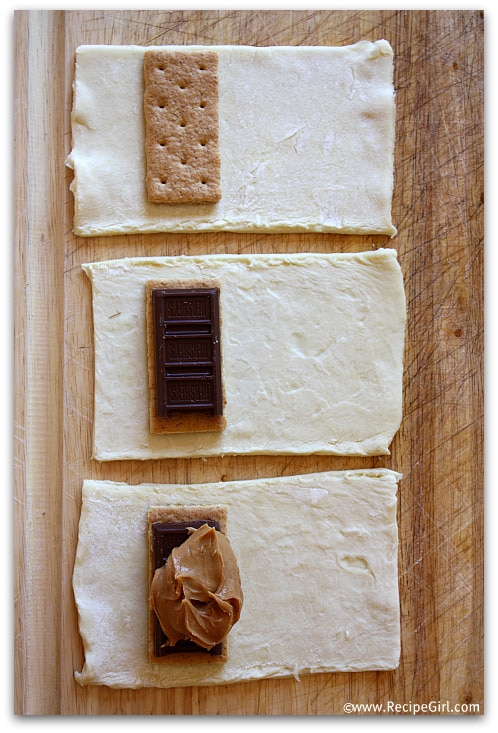 Before I tell you anything about this pastry, let me inform you of a mistake (gasp!) in the photo!  You see, the recipe calls for softened marshmallow fluff on top.  This is what gives the pastry that real s'mores taste instead of just chocolatey, peanut buttery goodness.  I did use the marshmallow fluff, but unfortunately forgot to retake the picture after I put it on!  Oops.  I'm such a bad blogger.  (By the way, if you don't like marshmallow fluff, they're delicious without it too!  Think Reese's in a pastry.)
Anyways, now that I've gotten that confession out of the way….these were REALLY GOOD!  I loved them!  They were simple to make, too.  Let me clarify, though, that simple does not equal fast.  This is as easy as putting a few dry ingredients on top of a pastry, sealing it and baking it.  However, doing that to 18 (that's how many I made) individual pastries was quite time consuming.  So, if you're looking for a quick dessert recipe, this isn't the best.  But if you're looking for a ridiculously easy dessert recipe that will taste incredible, then this IS the best recipe for you.
S'mores just go along so perfectly with fall weather.  I've been craving them ever since summer ended, and I'm so glad I got the chance to make these!  And these are much, much cleaner than real s'mores…and don't require an open flame.
Peanut Butter S'mores Turnovers
Source:  Recipe Girl
Makes: 12
Ingredients:
1 box Puff Pastry (2 sheets), thawed
3 whole graham crackers, gently broken into fourths
12 fun-size hershey's milk chocolate bars
1/2 cup creamy peanut butter
small bowl of water
1 egg whisked with 1 Tablespoon water (to make egg wash)
1/2 cup jarred Marshmallow Creme (or Fluff)
Directions:
Preheat oven to 400°F. Line baking sheet with parchment paper or spray with nonstick spray.
Lay Puff Pastry on cutting board. Working with one sheet of Puff Pastry at a time, cut on three folds, creating 3 rectangles (about 3″ x 10″ each). Cut each 3 x 10 rectangle in half. You'll have 6 pieces to work with for each sheet of Puff Pastry.
Assemble turnovers: Lay graham cracker on 1/2 of each square, top with chocolate bar. Scoop a scant 1 Tablespoon peanut butter on top of each chocolate bar.
Working with one turnover at a time, wet edges of Puff Pastry and fold (over) in half to meet opposite edges. Gently push edges together to stick; use fork to seal edges together and create ridged pattern. Repeat with each turnover until all are sealed up.
Gently move sealed turnovers to baking sheet with a small spatula. (At this point, the turnovers may be refrigerated for up to an hour before baking- cover baking sheet with plastic wrap- when ready to bake, remove from refrigerator and continue with instructions).
Brush turnovers lightly with egg wash, then use a sharp knife to cut two small slits into the top of each turnover.
Bake 15 minutes, or until turnovers are puffed and golden. Remove from oven. Let cool for 5 minutes.
Scoop marshmallow creme into a zip baggie (don't zip). Microwave for 8 seconds to soften. Zip bag and snip a small piece off of the corner of the bag. Drizzle marshmallow onto the top of each turnover. Serve immediately.
*Here's a tip from Recipe Girl:  I tested this recipe with real marshmallows and they didn't work as well as the marshmallow creme.